Hallway Leaflet Distribution uses GPS tracking devices, during all campaigns. Because of this, they have become the go to door to door distribution service in Cheltenham, Gloucester and surrounding areas.
Why?
Simply because they use a state of the art GPS tracking system and only recruit reliable, trustworthy and hard working individuals. The needs our clients come first.
We have three ways of knowing that your advertising materials are delivered correctly and thoroughly through the doors that our customers request.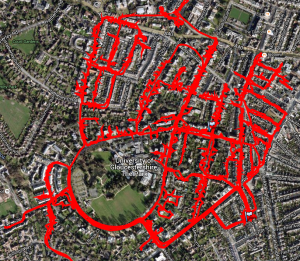 Secondly we provide our distributors with the latest smart phone apps, for example Strava & Map My Walk, to ensure full distribution coverage.
Thirdly, we have dedicated people who go into the areas covered and simply door knock to find out exactly what has been delivered and when approximately the home owner received the leaflets or magazines ect.
Below are a few examples of what our clients can expect to see from our very comprehensive GPS Tracking system to ensure your leaflets are being distributed correctly and thoroughly in the areas requested.
Take a look at our Distribution Q & A page and get in touch today