It is the prime aim of every business to sell their products and services to generate the absolute maximum revenue possible. Direct mail has stood the test of time and here is how.
Your marketing methods and strategies play a crucial role in the success of your online, as well as, your offline business.
If your offers are not marketed correctly, no one will ever be able to learn about your products and services no matter how effective and beneficial they are. You can use a number ways to market your business, however, advertising methods like flyers, direct mail, posters, banners, exhibitions and product shows are tried and true ways to attract new business.
Direct mail marketing is a promotional technique that helps you in advertising your business by mailing your specifications directly to the customer. With the help of direct mail marketing, you capture those potential customers that are actually interested to purchase your products and services.
You can access a consumer mailing list to mail directly to a targeted demographic that will likely have the highest response rate. You can also use a number of tools to find out the mailing prospects like you can use social media, business listings, yellow pages, telephone directories to find more even more addresses.
We've found that the best time to distribute flyers and send direct mail is when you have clear, definitive business goals in your mind. If you do not know what your actual goal is from the mailing or distribution, you can't help but fail.
The biggest benefit of flyers and direct mail is its effectiveness in generating new customers. At the same time, it can also help you to expand your market to serve wider, more diverse demographic. It is also effective to drive repeat business from existing clients and customers.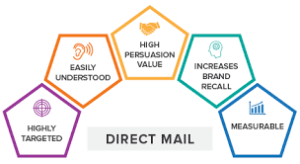 However you use your flyers and direct mail, keep in mind the most important element is creating goals and tracking the results. Without measuring the success of your direct mailing or flyer distribution, you will never actually know what is working, and what is just costing your business money.
According to a 2018 survey direct mail drives higher return on investment (ROI) than any other marketing channel. Discover just how by clicking HERE.
The survey, which polled more than one hundred small business advertisers on a variety of sales and marketing-related topics, also found that most respondents spent an average of £5,000 to £22,000 on ads each year.
Additionally, 34.71% of respondents listed direct mail as their top marketing channel by spend, followed by social media (18.18%) and search engine marketing (14.88%).
So to book your next leafleting campaign in and around Cheltenham get in touch with Hallway Distribution today, before your competition beats you too it.